HOW TO SURVIVE IN MOUNTAIN
HOW TO SURVIVE IN MOUNTAIN
HOW TO SURVIVE TO THE HARSH CLIMATES OF THE MOUNTAIN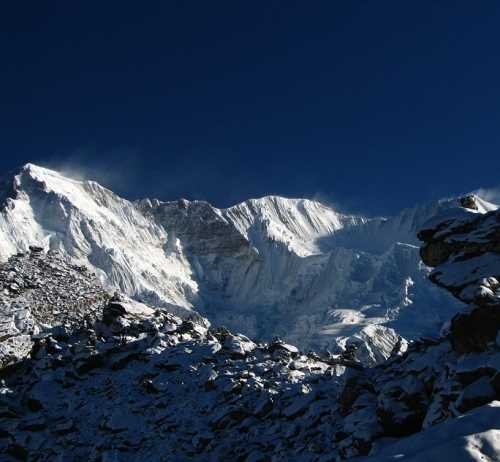 The mountain environment always hides dangers, as well as the sea, the mountain does not forgive mistakes.
People inexperienced and imprudent can easily get into serious trouble.
The mountain is famous for weather conditions that change in just a few hours, the fast changes in weather can turn a simple hike in a drama especially for those who have ventured without the right equipment and spare clothing.
The main dangers that may be encountered in the mountains are: avalanches, falling rocks, landslides, crevasse, fogs, snowstorm, high winds,  thunderstorms, harsh climate, risk of congealment, moraines collapse, torrents and waterfalls.
AVALANCHES:
Every year in the world: tourists, mountaineers, hikers and skiers lose their lives in the mountains and often the main cause is an avalanche.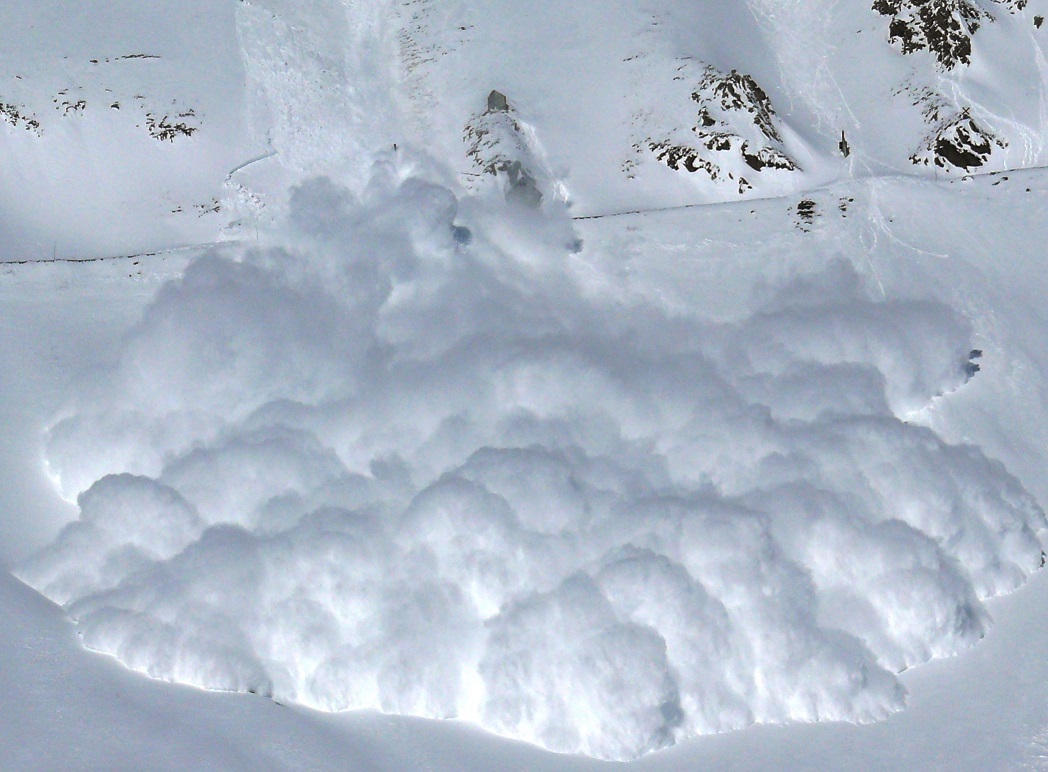 To avoid an avalanche you must learn to read the snow, to get it you take a ski-stick or a stick and you test on the ground to check if the snow is compact or layered. When the ground is compact the snow is safe, on the contrary when the snow is layered the stick suddenly sinks into the ground, in this latter case you must be careful. Also a wrong turn with your skis could trigger an avalanche.
Sometimes the avalanches are triggered by skiers and snowboarders inexperienced.
THE COLD:
The frostbite is always a danger in the mountains, very cold temperatures can lead to freeze you, so it is necessary to pay special attention to the ends ie hands, feet, face…
You must observe your skin, in frostbite phase, becomes increasingly red and then black (gangrene).
Hypothermia

begins

when the internal

human body temperature

drops below

35

degrees (95°F)

.

It is considered

severe

hypothermia

when the internal

temperature reaches

26

degrees (78°F)

,

below

the

24

degrees

(75°F)

is considered

as
lethal
hypothermia
.
The freezing of human tissue occurs when their temperature drops below 4 degrees
(39°F)
, the action of cold affects immediately the nose, ears, fingers and feet, this because they are the most exposed parts of the body, you have to cover them and keep warm.
Prolonged exposure of hands and feet at the strong cold, can lead to necrotize the tissue irreversibly, in these cases, unfortunately, it is necessary to proceed with the amputation, although you can wait several days or even weeks before you proceed with the surgery.
Example of frozen hand with swelling and intense red colour.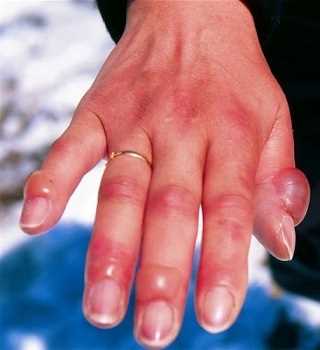 Particular attention should be
dedicated
to the defrosting that must be gradual to avoid serious injuries caused from the fast expansion of blood vessels.
If your hands are too cold or frozen, absolutely NOT put them over or too close the fire, but warm up them gradually with the heat of fire.
Never drink alcohol to warm up. Initially alcoholic substances give a sense of warmth but then cause a drastic cooling of the body.
Possibly drink a hot and sweetened drink.
To keep warm your hands you can put them under your armpits.
THE

WALK:
To walk more easily on the snow, especially if it's very soft, you can help with the snowshoes. If you have not the snowshoes you can easily build a pair in a short time.
You have to find two green and flexible branches, tie them at the end and then make a weaving with a rope or twigs.
Examples of makeshift construction of snowshoes.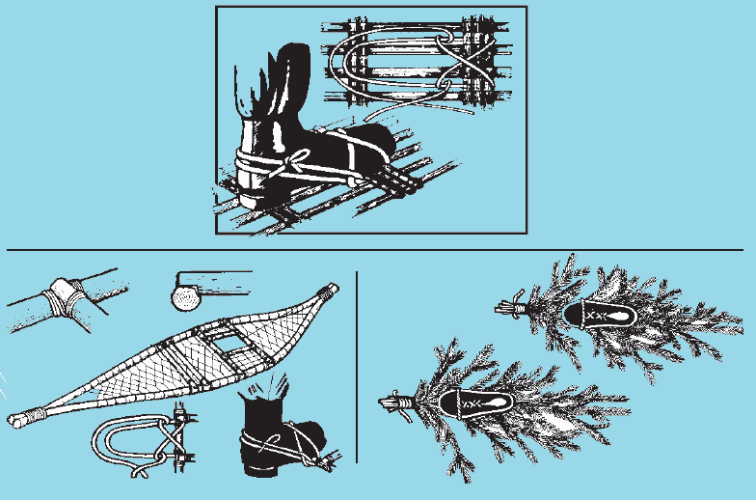 To cover in less time a steep descent on the snow, you can skirt the issue the slope by using an ice ax as brake. If you do not have an ice ax, you can use a resistantwood or a ski pole broken in half. To slide along the slope, you have to let you go, by braking with the ice ax when you skirt the issue too quickly.
BEARS:
In the mountain environment, especially when you walk in the woods, you must be careful to the bears, if you see a scratched tree is certainly the work of a bear that has marked the territory scraping his claws on the bark.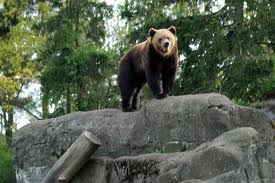 It is very rare that groups of many people are attacked by bears, this because many people means a lot of noise. Bears move away from the noise. Although it seems weird, a way to avoid ending up in the clutches of a bear is to make a lot of noise and scream. Warned the bear that you are there, to put it on the run. Often hunters are attacked because they move cautious and in silence, and the bear not realizes their presence and when it finds them attacks for defense. The bears get very aggressive when they are surprised suddenly.
If you are alone, scream and make a lot of noise to keep the bears away.
If you go to an area where there are many bears, carry a rifle or a pistol loaded with non-lethal ammunition (blank or pepper) to scare the bear (do not kill bears if you're not forced), can be also useful a professional pepper spray incapacitating against bears.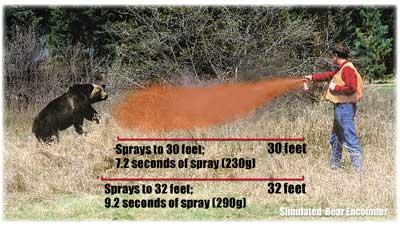 THE WATER:
In mountain you can find many watercourses and in presence of snow you can drink it by following some precautions.
Never drink the snow or the ice if you are thirsty, in this way you lose precious heat from the body, melt the ice on a fire in small doses.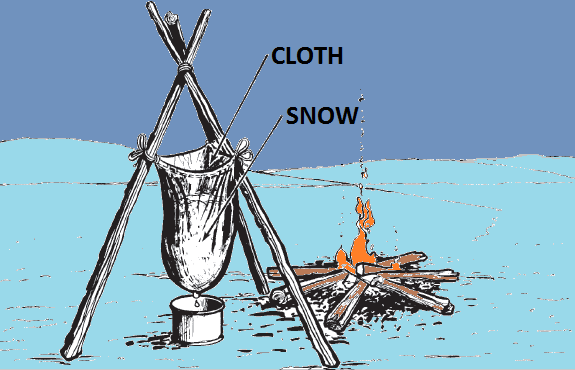 THE FIRE:
Follow this guide: LINK.
THE SHELTER:
HOW TO BUILD A SHELTER IN THE SNOW
Shelter with a structure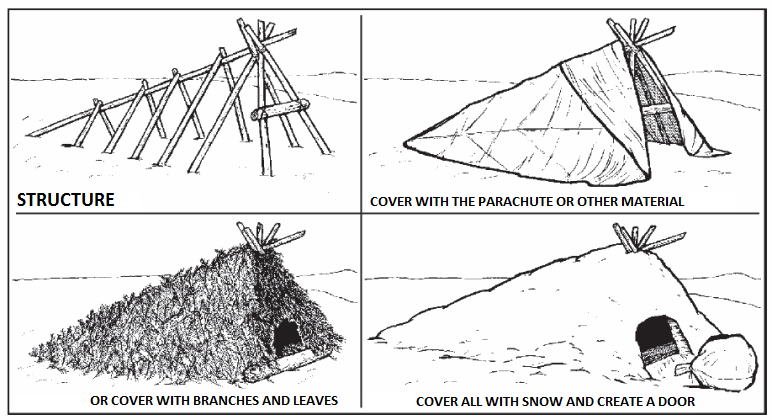 Shelter in a snow hole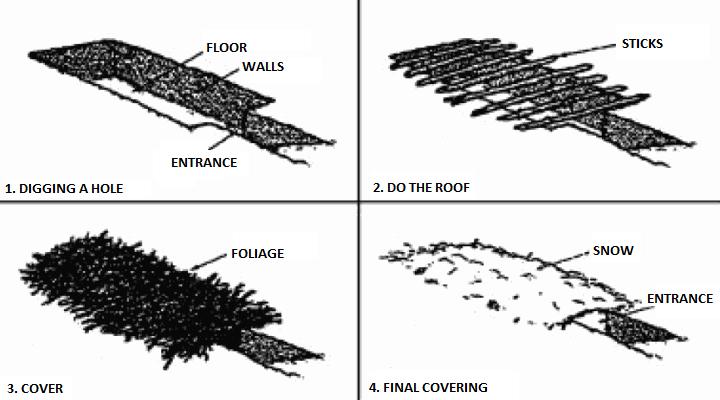 Inside of the shelter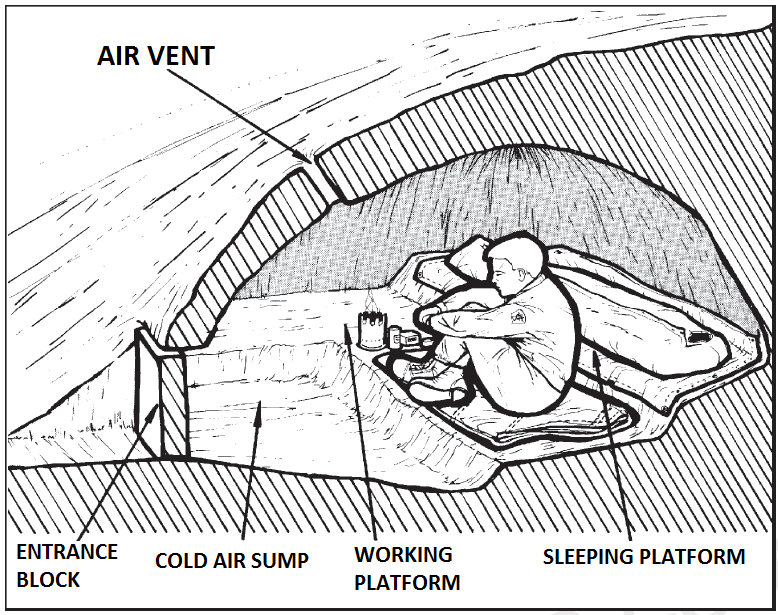 HOW TO BUILD A SHELTER IN THE WOODS USING BRANCHES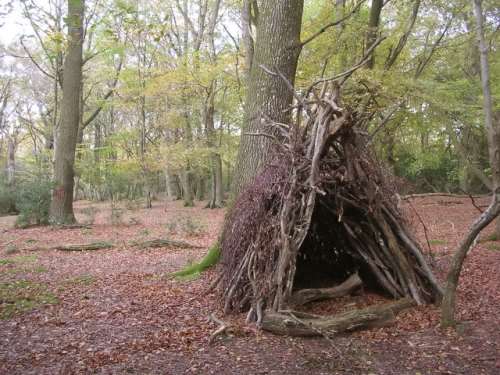 SIGNALING:
A series of 6 flashes of light or loud whistling in one minute with intervals of 60 seconds.
Use a red flares.
Draw a white circle on a red fabric.
Raise your arms (NEVER one arm, means that you don't need help).
Each signal repeated 3 times in succession, is valued as a request for assistance.
Example: make three fires, create three columns of smoke, three loud whistles, three gunshots, three flashes of light, three signals with the heliograph…
It is used usually an interval of 1 minute between a group of signals (example: three flashes of light, a minute of interval, three flashes again, and so on).
This signaling system is recognized globally by all the rescue teams.
Signaling techniques: LINK.