COMPLETE SURVIVAL KIT
COMPLETE

EQUIPMENT

FOR SURVIVAL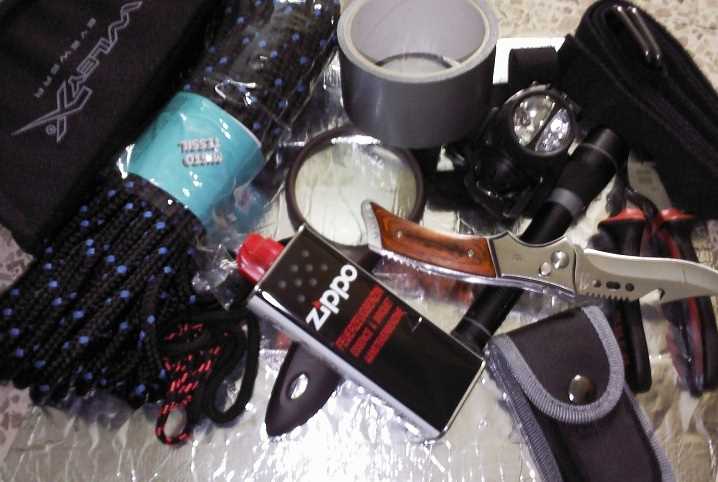 This list is just indicative. The content of survival kit can change depending on the area where you venture, according to economic and personal availability, to the number of people, to the vehicle in which you are traveling (car, camper vans), to the type of activity that you will do, etc…
SURVIVAL KIT
THE EQUIPMENT:
Not all of these items are indispensable.
Knife

(the survival knife)

Matches (waterproof

,

windproof and

anti

humidity)

Refillable lighter

Firesteel or fire striker

(most

recommended because very practical and functional)

Magnifying glass (useful to start a fire)

Compass and map

of the place (it is important to know how to properly use the compass and topographic map otherwise these objects will be useless, see orientation); or GPS navigation device (technology makes our lives easier, but the batteries have their limitations).


Fishing Kit

(hooks, sinkers, nylon wire, artificial lures)
Heliograph (it is a little mirror useful for signaling)
Whistle (useful to ask for help in the mountains)

Laser

pointer

(

optional)

Candle

(useful for carrying the fire without turning it off, make light, signaling. In extreme cases you can also eat it)
Pencil and paper (to take notes and keep annotations about time and movements)
Plastic bags (preferably biodegradable, useful for various uses such as waterproofing the equipment)

Space blanket

(It is able to maintain 80% of body heat, it reflects heat fire, protects from rain, water, and moisture and takes up very little space. Thanks to its reflective material the thermal blanket can be easily sighted from far away and also be used as Heliograph)
Hand cleanser and facial

Soap

bar

or soap

powder

Razor Blade
Needle, thread, buttons and safety pins

Cordage, rope, laces

Insect repellent (especially against mosquitoes)
Sunscreen
Waterproof flashlight (low-power, LED, preferably dynamo)
Mess kit

Canteen

(soldier's flask)
Water purification tablets (chlorine or iodine)
GSM mobile phone or satellite phone (possibly with hand crank dynamo charger)
Digital wrist watch (hiking model with altimeter, temperature gauge, barometer, alarm clock, stopwatch, compass, and preferably waterproof and retroilluminato).
Swiss boxcutter (Victorinox model with nutcracker, rasp, plier, support for screwdriver bits, scissors, wrenches, corkscrew, can opener, tweezers, etc …)
Rubber tube (tourniquet)
Depending on the load availability:
Sleeping bag

Bivouac sack (bivy

bags)

Ax

Pickaxe

Ice axe
Saw wire (less bulky)
Small hammer
A couple of nails 10 cm (for the most varied uses: traps, shelter …)
Wire steel for trapping

Mousetrap

Slingshot for hunting
Screwdriver
Wire cutter shears
Secateurs

Machete

(indispensable in the jungle)

Harpoon

Speargun

Signal flares

Smoke bombs

Cyalume

(or glow stick

)

Thick rope

with

carabiners (rock-climbing equipment)


Hammock

Sunglasses

(with interchangeable and 

completely removable

lenses,

easy to clean, with certified protection from UV radiation)

Eyeglasses spare (if you wear glasses)

Tarpaulin
Camping gas stoves
Hexamine fuel tablet
Lantern
Aluminum foil, plastic wrap and paper towel
Towels and

wet wipes

Camping shovels
Pot, glass, cutlery and plate (all-steel)
Strobe light

Gasoline burner

Backpacking water filter
Potassium permanganate (in crystals, tablets or powder.

KMnO4 

can be useful for various purposes: dissolved in clean water provides an antiseptic solution to disinfect wounds, few crystals in a liter of water, left to decant for half an hour, make the water drinkable, mixed with snow produces a purple color visible from afar useful for signaling, mixed with half teaspoon of sugar you get a good tinder to light a fire. WARNING: observe the dosages and instructions for its use because it can be harmful to health and the environment. Unfortunately, this product is very difficult to find because its commercialization was limited by the CEE because it also used for refining cocaine)
Duct tape (usually gray in color, this tape is backed with scrim, often coated with polyethylene)

Sand paper

Permanent marker (can be used to write on any surface, useful to remember important things or leave messages and directions)
Supply of mineral water, freeze-dried rations (eg. LRP ration, Pemmican, BP-5 compact food), energy bars and snacks

Cool bag

,

thermos

Hot water bottle

Mosquito net

Nail clippers

Insulating tarp, blanket,

airbed

Survival

manuals (survival rules, first aid, animals and poisonous plants)

Emergency

radio (dynamo/solar)

Signal towel
Only if you have a firearms license: gun or a rifle with ammunition, blank cartridges and signal rockets.
THE

BACKPACK

(SURVIVAL KIT)
Ideal weight: under 15 kg (33 lb).
The ideal weight should be a quarter of our mass.

Recommended maximum weight

: from

20 to 30

Kg (44-66 lb).

The equipment should be able to stay all in one backpack.
The backpack should not be too heavy or uncomfortable for your back.
Remember to bring only the equipment

you need

and not to fill the backpack of useless and superfluous things.
The weight of the backpack should never exceed 35% of your body weight, the equipment inside must be strictly selected.
Balance the weight of the backpack so that some objects do not give you discomfort on your back.
Remember to waterproof the most sensitive items such as clothing, medicines etc … (sealed them with plastic bags or waterproof containers).
Place on the bottom of the backpack things less used, while holding on hand the most important things.
Part of the equipment can be transported on your body (survival knife tied to your belt, objects of immediate consumption in your trouser pockets, etc …).
On sale you can find many backpacks for survival with strategic compartments, full of pockets, waterproof, demountable and multi function like those of the soldiers etc …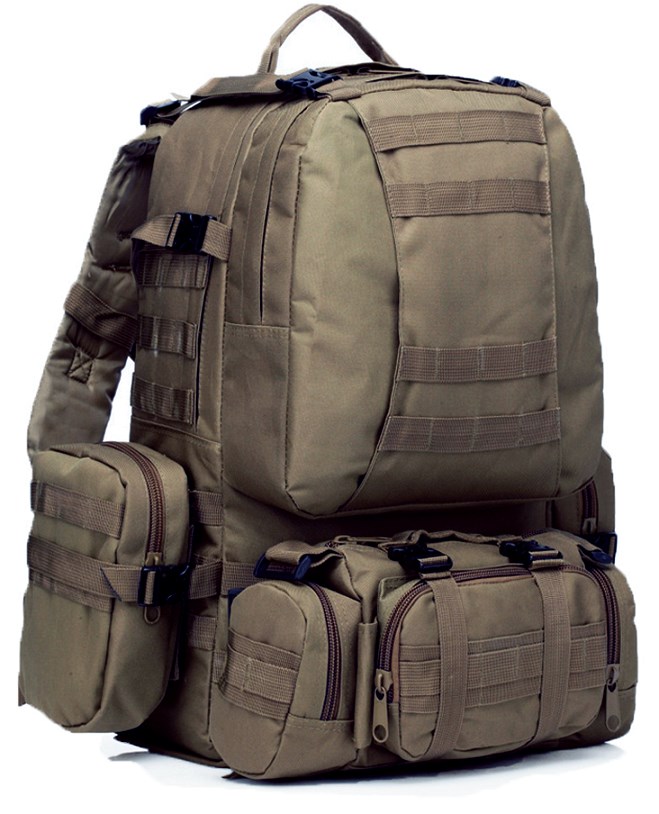 FIRST AID KIT (SURVIVAL KIT)
Remember to always check

the expiration date

of each drug.
Temperatures too hot or too cold can shorten the life of a drug (such as a snake antivenom resists a few months out of the refrigerator, while some drugs melt with the heat).
The first aid kit should be light and it changes depending to the zone and activity type.
If you are traveling with a vehicle carry a complete first aid kit.
If you travel with a backpack choose a basic first aid kit that is packed in a briefcase possibly waterproof.
CONTENTS:
Tourniquet
Plaster of various shapes and size
Scalpel, needle and thread (sterilized)

Tweezers, scissors

Sterile disposable

syringes

Cotton wool

Collyrium

Aspirin

Tablets for motion sickness
Antiallergic drugs
Cortisone

Polivitamins

tablets

Mercurochrome (for disinfection and cleaning of wounds and as cicatrizant for small wounds, burns or abrasions)

Tincture of iodine (antiseptic for external use, it useful for the disinfection of water, 3 drops per liter allowing to act for 30 minutes. Also useful for the treatment of

slight radiation poisoning

)
Protective spray for wound care and injuries
Instant ice pack

Ointments (for sprains, burns and bruises)
Painkillers, anti-inflammatory
Antifungals (for yeast and hyphae)
Sedatives and cardiorespiratory analeptics
Analgesics (to reduce pain)
Antipyretics (to reduce fever)
Paracetamol (analgesic and antipyretic action)
Broad-spectrum antibiotics
Antispasmodics (for diseases or syndromes of gastrointestinal tract)
Antihistamines (for allergic reactions)
Cough syrup
Spray or tablets for sore throat
Antidote (eg snake antivenom)
Poison extractor
Hand sanitizer

Denatured alcohol

Ammonia
Toothbrush and toothpaste

Dental floss

Thermometer

Blood pressure measuring device
Portable defibrillator
CPR pocket mask
Sunscreen (SPF 50+

in case of

intense

UV

)
Cocoa butter
Insect repellent
VACCINATION
Before going abroad inform yourself about which vaccinations you need to do (for example in some parts of Africa you have to do the malaria prophylaxis or the vaccine against the yellow fever, typhoid, hepatitis, etc …).
CLOTHES

(SURVIVAL KIT)
The choise of clothes changes depending of the zone and climate.
The basic rules for the choice of clothing are:
practicality,

comfort,

durability,

washability,

breathability.
Garments must be large, of a good fabric and not prone to dirtiness.
List of clothes for cold and hot climates/weather:
Durable cotton pants and jeans with tactical belt
Cotton long sleeve t-shirts
At least two cotton t-shirts
Slight shoes or boots with spare laces
Several pairs of socks (light and heavy)
Thick sweater
Windbreaker with hood (possibly in Gore-Tex)
Aviator jacket
Cotton boxer shorts
Hat, bobble cap, balaclavas
Cape waterproof
Neckerchief (against dust or shine)
Leather work gloves

Mittens

Poncho
Snowshoes and

ski gloves

Headscarf (useful to protect the head from the sun, to dry the sweat of the brow, against dust and strong wind, to protect the throat from the cold, as a support to hang the arm wounded to the neck, to make a hemostatic ligation and for ask help moving it up and down).
Some useful advice:
If you wear a tactical jacket you can put your survival equipment in the various pockets.
In the jungle or in the desert choose long sleeves shirt and long pants to avoid sunburn, insect bites and wounds caused by thorns and prickly plants.
In cold climates cover well the hands, feet, head and ears. Protect the body wearing several layers of clothes and creating various air space between the clothes, if you not have some shirts put paper, thatch or plastic bags under your shirt.

The feet should always be kept dry and comfortable.

Often stop yourself to remove small stones and dust from shoes.
If your shoes are wet wear a plastic bag.

Cleaned clothing are more efficient (in terms of insulation and thermal properties) of the dirty ones.

In cold weather

ever keep

wet clothes on, while in hot and humid climate

never take

them off.

A garment frozen but dry is better than a garment wet

(in case of wet clothes: remove them, squeeze them and let them freeze in the snow finally remove the ice and wear them,

in this way

you will have

removed

the moisture from clothes).
When you march in the snow better wrap around the shoe a waterproof thing.
To walk on ice without slipping put the socks over your boots.
In the desert always cover your head and neck with a piece of damp cloth and clear to avoid heat illness.
To clean your clothes, you can use the ashes of the campfire (charcoal).
If there is a lot of snow on the ground wear glasses or cover your eyes with a blindfold with two holes for the eyes, to avoid snow blindness (photokeratitis).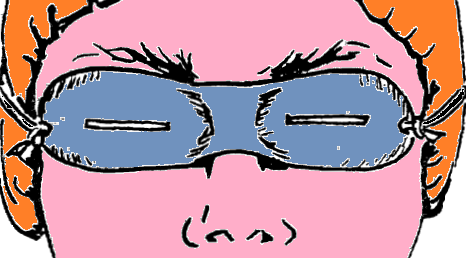 DOCUMENTS (SURVIVAL KIT)
Identity document (ID)

Passport

National identification number (SSN in United States, NINO in UK, Fiscal Code in Italy, TFN in Australia, etc…)
Driver's license
Bank account number
Vaccination booklet
Depending on the country: Visa (transit, visitor, immigrant)

A sheet with useful informations (example: blood type

,

phone numbers of relatives, family or friends, etc..)
Also bring cash money (in small bills) and if you have an international credit card (Visa, MasterCard, etc … ) .
Finally remember that you should not save money by buying low-quality products, especially for the equipment and the most important clothing, it's better to spend more money and have equipment that can save life in unfavorable conditions.
How much are you willing to spend for your life?