MINI CROSSBOW
PISTOL CROSSBOW
useful for hunting

, fishing

, survival and

sportive use

.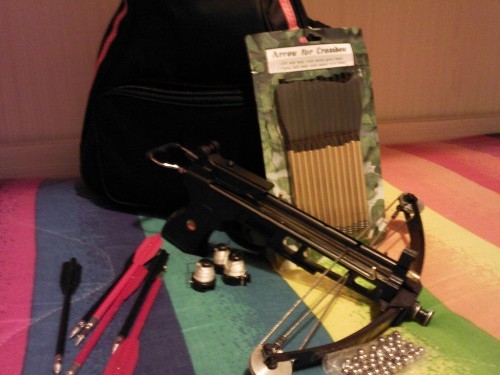 The pistol crossbow in the picture is the model CF501C, at three functions, of ROYAL.

The crossbow is made of metal, the buttstock is made of polymer, and the arch is made of metal with steel cables.
This mini crossbow has 3 types of functions: shoot normal arrows, fishing arrows and steel balls.
Technical specifications:
Archetto: 80 Lbs
Distance: 56M
Weight to the trigger: 1.4KGs 120N
Magazine: 15 balls
Supplies for 11mm rail (optical and pointers)
Weight: 860Gr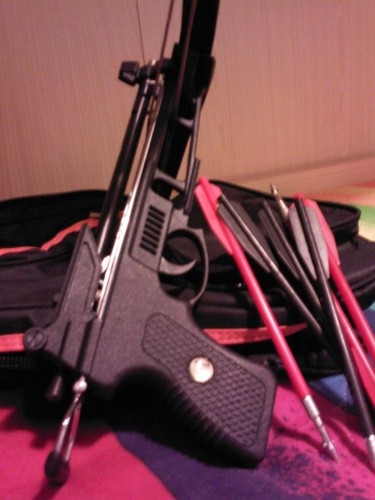 Supplied Accessories

:
Backpack
Simple sights adjustable
3 Arrows of aluminum with structure in PVC
3 Arrows fishing (with reel wire to collect the arrow)
6-mm stainless steel bearing balls

My opinion:
The structure and materials are very resistant.
The arrows are fired at a frightening speed, with the right distance can easily pierce the skull of an animal.
Good speed allows you to capture a fish and then recover it thanks to the reel wire attached to the arrow.
You must be very careful with this weapon, it's not a toy, don't give it, for any reason, to a child.
The backpack is

very

comfortable

,

it

has

various pockets

and

compartments

to hold

all the equipment

.
The crossbow

can

also shoot

steel balls

,

useful for

sportive use

or

to learn how to

take aim.